Location
Poland's location offers numerous advantages for business. The country is located at the very heart of Europe. It borders on both the EU member states (Germany, the Czech Republic, Slovakia and Lithuania) and the Eastern European countries Ukraine, Belarus and Russia. This means access to 250 million consumers within a 1000km radius. East-west and north-south transit routes cross within Poland's territory. The continuously developing network of roads and motorways facilitates logistics. The proximity of both EU and Eastern European selling markets promotes exports of goods. Numerous airports and seaports allow the transport of goods all over the world.
---
Educated employees
Polish education system produces specialists with expertise in many areas. Almost two million people study in Poland – this is almost half of the population of student age (19 to 24). Each year, 400,000 graduates complete studies at 500 universities, and the numbers keep on growing.
Well-educated Polish graduates are highly sought-after and appreciated employees who find employment in international companies and institutions. They have a very good command of foreign languages – the majority of them have mastered English. Many learn other foreign languages too – mainly German, Russian, French and Spanish.
More and more students choose to study at technical universities, which educate engineers, IT specialists and scientists – graduates are sought after and valued, not only in the domestic market, but in the whole of Europe.
Study in Poland (www.poland.gov.pl)
---
Developing economy
Poland now has Europe's sixth biggest economy. In the years 1996 – 2009, the GDP hovered around 4.5%. It was the only country in the European Union to maintain positive economic growth in 2010.
World class companies often choose Poland as an investment destination in Europe. The number of new investment projects is constantly growing, especially in the automotive, R&D, electronic and chemical sectors. In 2009, Poland attracted EUR 9.95 billion of FDI and is estimated to attract EUR 5.34 billion in 2010.
The Polish economy faces prospects of further dynamic growth. In the years 2007-2013, Poland is estimated to be receiving approximately EUR 67 billion of funds from the Community budget. This means that it is the largest beneficiary of EU funds. Furthermore, the hosting of the UEFA Euro 2012 went to Poland and Ukraine, heralding the development of infrastructure and the building, service and tourist sectors.
Polish economy in numbers (www.investinpoland.gov.pl)
---
Selling market
Poland, as the sixth largest country of the European Union in terms of population, constitutes a very large selling market for goods and services. It is inhabited by 38 million citizens, which accounts for as much as one third of the total population of new EU member states.
---
Outsourcing Industry in Poland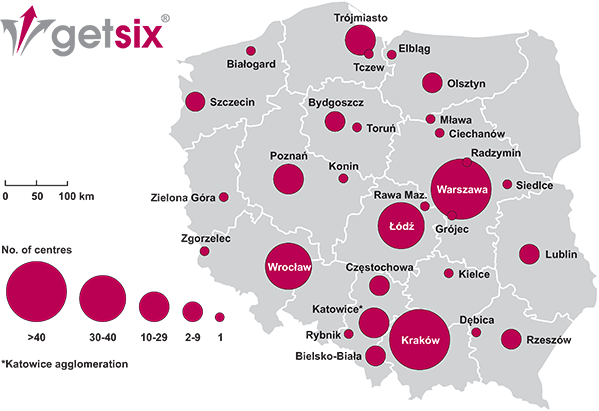 There is probably no other sector in Poland like business services market that grew by about 50% within 2 years (the crisis years). Poland became the indisputable leader in the region, beating the Czech Republic and Hungary twice in the level of employment. Service centres with foreign capital in Poland employ about 70,000 people (in 2008 there were about 45,000 people employed).
This is yet not the end of good news: most of the already existing companies forecast growth in the coming years, and the Polish Information and Foreign Investment Agency (PAIiIZ) informs about a long list of investors planning to open their service centres in Poland. The number of employees of the sector at the end of 2011 can be safely estimated at 75,500 people. Poland is on the best way to become the European hub for business processes and IT services, as well as the cluster of R&D centres.
Offshoring of services (which is referred to as detachment and relocation of selected business processes abroad, to other part of the world) is one of the key features of the globalisation process. Among the most important advantages gained by countries capturing services subjected to offshoring, one can count i.e. increasing export incomes, creating new jobs, higher salaries and improving qualifications of the labour force.
The companies form the business services sector (about 300 in Poland) are reliable providers of world-class services for international corporations. Not the 'invoice-settlers' or 'phone-callers', as many people who did not understand this business used to name it.
Almost all researched centres (91%) provide services for clients from Western Europe. This concerns, of course, both external and internal clients (mother corporations). Enterprises active in Poland are serviced by 70% of centres subjected to analysis. Slightly above 60% of the centres provide services for companies from Central and Eastern Europe. The share of centres servicing companies from other geographical areas is significantly smaller.
The absolute majority of employees of business services sector in Poland (90%) completed university education. In comparison to the rest of the centres, the percentage is slightly higher in case of personnel employed in R&D centres. The average age of employees makes 29 years and shows tendencies to grow. It can be forecasted that it should reach 30 years already next year. In most cases, the average experience in current jobs varies between 2 and 3 years, with visible growing trend.
The main offshoring locations in Poland are: Warsaw (54 centres), Krakow (43), Wroclaw (38) and Lodz (31). In Warsaw employment level exceeds 10,000. persons including 1,000. persons in R&D centres. In comparison to 2008, the significant employment growth was observed (over 3,000 new jobs). Specialisation of Warsaw is: Finance & Accounting and Customer Service (excl. IT support). Warsaw offers the largest stock of office space – 62% of Polish modern office stock is centralised in Warsaw (diagrams below). At the end of Q1 2011 further 533,000 m2 of office space was in construction stages across Poland, the majority of which was in Warsaw.
In the CEE region, Budapest has the widest choice of office lease options above 1,000 m2 over the next couple of months and is followed by other CEE capital cities: Prague, Bucharest and Warsaw.
Poland, with a 5.66 million m2 of modern office space, is the largest office market in the Central and Eastern European region. Other countries combined offer around 8.5 mil.m2 (Czech Republic – 3.23 million m2, Hungary – 3.05 million m2 and Romania – 2.20 mil.m2). >Warsaw, Prague, Budapest and Bucharest are the core CEE office markets and have a combined office stock of over 11 million m2. Warsaw represents a 31% share, followed by Budapest and Prague (with 27% and 24% respectively) and Bucharest with 18%.
Source: Business Services Sector in Poland, ABSL (Association of Business Service Leaders in Poland)